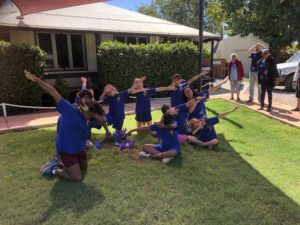 Derby Holy Rosary Students undertake a special NAIDOC project to learn about the Kimberley Stolen Generation members and with that comes an understanding of Australia's past laws and policies that have impacted on thousands of families.
The grade 5 and 6 students met with the KSGAC Team to learn what the service does to assist Stolen Generation Members from the Kimberley through Link-Up, viewed Healing Foundation animations detailing colonisation and the impact on Aboriginal people including the Stolen Generation.
During the visit the students were able to meet two Elders, Patricia Edgar and Daisy Howard, who often engage with education groups and participate in Healing activities.
During the education session the students thoughtfully asked a number of questions such as, "What is the Stolen Generation? Why were children taken? Why were children born with lighter skin? What did they learn about their families? Were the children schooled?  How many people were taken? The Students came prepared with project books and jotted down answers during the education session.
As KSGAC staff are conscious of supporting children's wellbeing and in reducing inter-generational trauma a Protective Behaviours Magic Hand activity was chosen to encourage the students to reach out when they need help. As a result each child filled in their name and support people, Mothers, Fathers, Aunties, Uncles and Teachers.
KSGAC would like to thank the Derby Holy Rosary school, staff members Alis Hart, Kylie Morrison and Lesley Hodges for the opportunity to help the children with their NAIDOC project.