KSGAC staff and clients enjoy National Mental Health week.
The recent Mental Health Week was a very busy time for the Kimberley Stolen Generation Aboriginal Corporation staff who participated in a number of activities focusing on social and emotional well-being.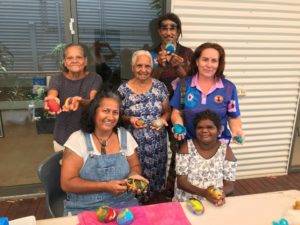 In Broome at Town Beach around sixty people came together and services such as the KSGAC were involved in the event which included music and a BBQ.
KSGAC staff made themselves available to answer questions on the Link-up and Redress Service.
KSGAC held a colouring in competition of the National Sorry Day Flower and gave gift packs to winners.
The KSGAC Healing Art group also joined in with Boab Mental Health and enjoyed making wool rocks, learning new craft techniques and networking.