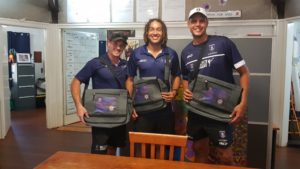 We were lucky enough to have Fremantle Dockers: Graham Mills, Tendai Mzungu and Michael Johnson from Next Generation Academy come into the office and have a yarn.
We hope you enjoy our new KSGAC satchel bags (available for purchase on our website in grey or blue)!
Word on the street is they will be visiting Derby Tommorrow, make sure to keep an eye out for them.
After Derby they'll be heading to other Kimberley towns to support our kids to reach their goals.