This year KSGAC welcomed more than 70 Notre Dame University Medical Students during education and cultural awareness sessions.
During the visit the students learnt about the forced removal of Aboriginal Children from their families and human rights issues.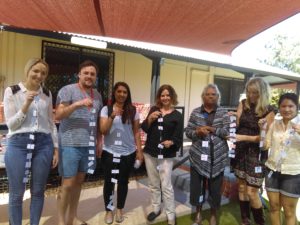 The members talked about the need for Medical Practitioners to have an awareness of Social and Emotional Well-Being issues to help Aboriginal people.  KSGAC CEO Tania Bin Bakar discussed the services role of assisting Stolen Generation Members with Counselling Support, Link-up, the National Redress Scheme and wellbeing projects.
During the visit the students heard personal accounts of several members. The Medical students were encouraged to gain enough tools to help Indigenous people with Social and Emotional Well-being issues and to think about emotional wounds inside of Indigenous patients to provide better support. The Students were encouraged to seek guidance from Indigenous Medical Staff whose role is key in understanding patients, health and families. Indigenous Doctor Kim Isaac was present during the morning visit and gave her unique practice experiences and perspective on closing the Gap when working with Indigenous people.
The Students were able to ask Stolen Generation members about their lives and drew posters about their time at KSGAC.
A special Healing art activity involved the making of affirmations which students created and read to the members as their understanding and acknowledgement deepened on the inner strength of Stolen Generation members and decendents who were present during the education sessions.
We look forward to the Notre Dame Students returning in 2019.