The Kimberley Stolen Generation Aboriginal Corporation Link-Up Team Leader Pauline McKenzie has received a prestigious Kullari 2019 NAIDOC award.
During the NAIDOC Ball Pauline was awarded the Voice, Treaty, Truth award for her dedication to locate and link Stolen Generation people alive and those deceased with their families.
As Pauline's name was called out she said she was shocked but also happy. "I never thought I would be nominated or receive a NAIDOC Award. I have always wanted one, never thought I would get one but now I have." she laughed."
"I am so surprised." She said.
Pauline received the award as her daughter Melanie and many other friends cheered her on.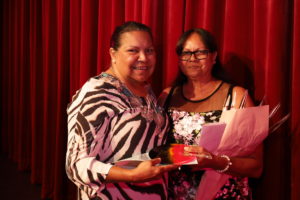 Photo: Left to right of Pauline and University of Notre Dame's Maria Morgan.
Image courtesy of Goolari Media
KSGAC truly appreciates Pauline's leadership as Dr Mark Bin Bakar explains. "Pauline demonstrates integrity and through her diligence with the data entry project has located a number of Stolen Generation people's buried in unmarked graves."
"Pauline has transitioned as the Link-up Team Leader and is able to help staff with their ongoing cases that can lead towards a number of different reunions. Pauline is a courageous second generation person. Pauline's mother was taken away as a child from her family. Pauline's level on understanding of Stolen Generation people's experiences is very deep and we are very glad she works with us here." Dr Bin Bakar said.
The Award comes at a time when Pauline is embarking on a family reunion in the East Kimberley.
HERE IS A LIST OF THIS YEARS WORTHY REWARD RECIPIENTS
2019 KULLARRI NAIDOC AWARD
Presenter: Mal Macintyre (Monadelphous)
Focus Organisation Award
Jalygurr Guwan
2019 KULLARRI NAIDOC AWARD
Presenter: Maria Morgan (UNDA)
Kullarri NAIDOC Patron
Eugenia Leslie-George
2019 KULLARRI NAIDOC AWARD
Presenters: Taryn and Aaron Ryan (Footprint Cleaning)
Contribution to Sport
Jessica Howard
2019 KULLARRI NAIDOC AWARD
Presenter: Mal Macintyre (Monadelphous)
Artist of the Year Award
Sammy Wyborn
2019 KULLARRI NAIDOC AWARD
Presenter: Maria Morgan (UNDA)
Voice. Treaty. Truth award
Pauline McKenzie
2019 KULLARRI NAIDOC AWARD
Presenter: Alistair Sherwin (Sponsored by Shire of Broome)
Community Engagement Award
Divina D'Anna
___________________________________________________________________________
2019 KULLARRI NAIDOC AWARDS
Presenter: Jodie Bell (BAMA)
Contribution to Art and Culture Award
Maxine Charlie
2019 KULLARRI NAIDOC AWARD
Presenter: Neil Marshall (INPEX-led Icthys)
Lifetime Contribution to Media
Sandra Dann (Couldn't Attend)
2019 KULLARRI NAIDOC AWARD
Presenter: Maria Morgan (UNDA)
Lifetime Contribution to Culture and Heritage
Patricia Torres
2019 KULLARRI NAIDOC AWARD
Presenter: Neil Marshall (INPEX-led Icthys)
Community Leadership Award
Ninielia Mills
2019 KULLARRI NAIDOC AWARD
Presenter: Neil Marshall (Sponsored by Shire of Broome)
Reconciliation Award
Joe Grande
2019 KULLARRI NAIDOC AWARD
Presenter: Alistair Sherwin (Department of Prime Minister and Cabinet)
Elder of the Year Award
Frank Ozies
2019 KULLARRI NAIDOC AWARD
Presenter: Alistair Sherwin (Department of Prime Minister and Cabinet)
Person of the Year
Phillip Matsumoto